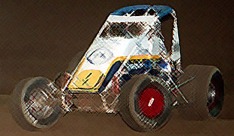 (Ventura Raceway Program, 1995)... The International Motor Contest Association's Sprint Car class is the newest addition to Ventura Raceway's list of regulars. The non-winged racers are less expensive cousins to the Sprint Car Racing Association's fleet, and will provide a starting place for younger drivers on their way to SCRA and other sanctioning bodies. The class also provides a place for drivers who wish to run sprints on a more limited budget than is required in such groups as SCRA.

The IMCA sprinters are limited to 360 cubic inches if fuel injected. The may run any sized motor if they run a carburetor. These motor formulas allow them to generate about 425 horsepower. The cars are typically by Chevrolet engines and are limited to iron blocks.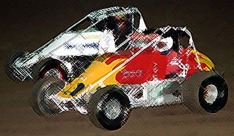 The chassis are limited to an 86-inch wheelbase. You will see a variety of chassis in this class. There are new Stealth, Beast, Stinger, and other chassis represented here tonight. The notion that this class is one for old outdated cars and technology is far from the truth.
Antoher equalizing feature of this new class is a left and right rear tire rule. The class uses a spec McCreary tire on both rear corners. These tires have proven to be a great equalizer, due to their hard compound. They also tend to last for many races, again cutting the cost to run this series.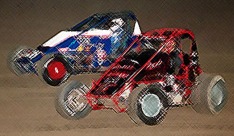 Unlike other sprint car sanctioning bodies, the IMCA allows engines to be claimed for $800. Any driver finishing on the same lap as the fourth place finisher, in the main event, can claim a motor from the top four finishers for $800. This rule is designed to keep the cost of motors at a reasonable amount.