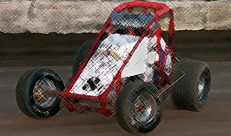 These are the general guidelines and recommended specifications for Sprint Car competition, any issues not addressed will be decided by a driver/owner representative board.
Chassis: Any steel chassis-minimum 1-3/8" OD tube x .095 lower rail and cage. No aluminum frames. Driver Head Safety Hoop Recommended.
Body: Sprint car type. No rudder, fin, sail, wedge panels, no exposed edge over in 2" in height beyond main frame or body. Driver side panel cannot block view.
Suspension: 84" minimum wheelbase. No driver adjusting device allowed in cockpit area. Any suspension allowed.
Rear End: Any rear end-no titanium axle-no titanium or carbon fiber rotors.
Shocks: OPEN-No driver adjusting device connections into cockpit area.
Steering: OPEN-no rack and pinion.
Wheels: OPEN
Front Axle: Steel only. No aluminum or titanium allowed.
Seat: Aluminum only. No fiberglass/plastic. Head rest mandatory. Minimum 4 bolts and large washers mounting seat to frame.
Fuel: Methanol only. No gasoline, Nitro, Nitrous allowed. Approved fuel tank / bladder only. (Fuelsafe-ATL-FBI,etc.)
Tires: Open. To be reviewed yearly to determine if a HARDNESS/Air Pressure spec. rule is needed.
Engine: 360 Cubic Inch LIMIT. 23 degree valve angle nozzle only. Steel block only-carbureted or fuel injected-No nozzles in head-minimum of 8 nozzles-Internal parts OPEN. Minimum (2) Throttle Springs with toe strap peddle.
Appearance: 18" minimum numbers size on nose and both sides of tail tank in contrasting color. NO PRIMER BIDIES ALLOWED.
Muffler: Mandatory 95DBS @ 100 feet. NO MUFFLER---NO RUN!!! Automatic DQ if not on at all times….
Safety: Roll Bar Padding in HEAD area required, NO EXCEPTIONS. MANDATORY ITEMS: 5 point – 3" seat belt system/ must be replaced every 2 seasons. Arm restraints-neck collar-minimum 2 layer fire suit-drag link strap-nomex gloves and shoes-driveline hoop or strap-on/off ignition switch.
Weight Rule: TO BE DETERMINED.