(August 9, 1983 - July 1, 2006) Daniel McMillin, 22 tragically lost his life Friday night in a car accident near his home in Warsaw, Missouri. Daniel was my cousin, crew chief, and most of all my best friend. He was one of the most talented young sprint car mechanics in the sport and his love for sprint car racing ran deep.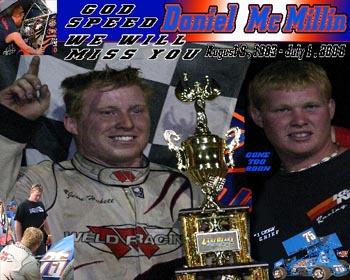 Daniel and I grew up together and started racing when we were 14, he never missed a race, sometimes even driving all through the night to get back to work at the local Wal-Mart in the early years of our career. Daniel was having the time of his life as a full-time paid mechanic working for VKCC Motorsports and you couldn't find anyone more proud of their race team than Daniel was ours. He and I worked until daylight some nights when we were assembling all the pieces for this season, it was the first time that we were on our own and he had a great time building everything brand new from the ground up after Florida speedweek.
He did an excellent job and he and I won our first night out with the new team at Baton rouge raceway with the ASCS national tour. You could see the satisfaction on his face in victory lane. He could do everything and often did on long trips it was sometimes just he and I. Daniel was not only my best friend but he was my biggest fan also, and he was very passionate about our racing. He devoted his whole life to my racing and he had more friends then most anyone.Good friends from Pennsylvania, to North Carolina to Arizona to Nebraska and everywhere in between and if you knew him you liked him.
There is not a more dedicated friend then Daniel was to me, no matter what ride I took, pay or no pay Daniel was with me, but he was such a good worker everyone loved for him to be a part of their team. He was very proud of the success we had and the accomplishments we had together and he wouldn't want me to stop winning races or chasing the dream we had for our careers. In fact if he were here he probably would be cussing me for giving up 3rd in points. But sometimes there are more important things in life then racing.
Thanks for all the prayers and well wishes, he will be missed by all. The funeral will be Tuesday at 1 pm in Warsaw, Missouri at the First Baptist Church.
Thanks for your thoughts, Jesse Hockett