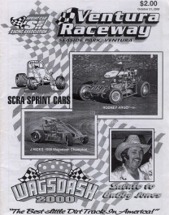 The Wagsdash, created by race fans led by Ken & Terry Wagner, is a special event for "low buck" and "hard luck" racers. A special invitational main event is held after the night's regular program.

The purse is raised entirely by fan donations- through sponsorship, auctions, and much more. The Wagsdash is more than just a race- it is an event.

Over the years, it has been held at Manzanita, Bakersfield, El Centro, Perris, and now Ventura.